Designing a garden is not easy: sometimes people contact us with the idea of using a synthetic lawn or plastic creepers for their garden… don't make this mistake! You should live your garden, or outdoor space, in a natural and optimal way according to your needs and habits. Follow these 8 rules to create your dream garden, start with the garden design:
1. first of all, designing a garden means setting goals. Ask yourselves first: "What do I want to do? How would I use it?"
Would you like a relaxation area, one for the family to have lunch outdoors, another where you can take refuge to read a book, why not, an area where you can do sports for your well-being? Everyone has their own idea of harmony. Once we understand the primary needs, we can begin to better understand the context that surrounds us and decide how to divide the spaces.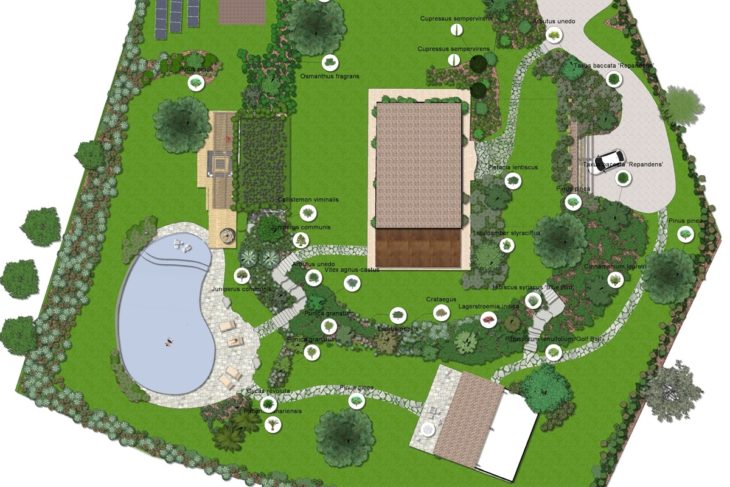 2. Respect the place
Understand how to intervene based on what surrounds us both for plants and for the structures to be added.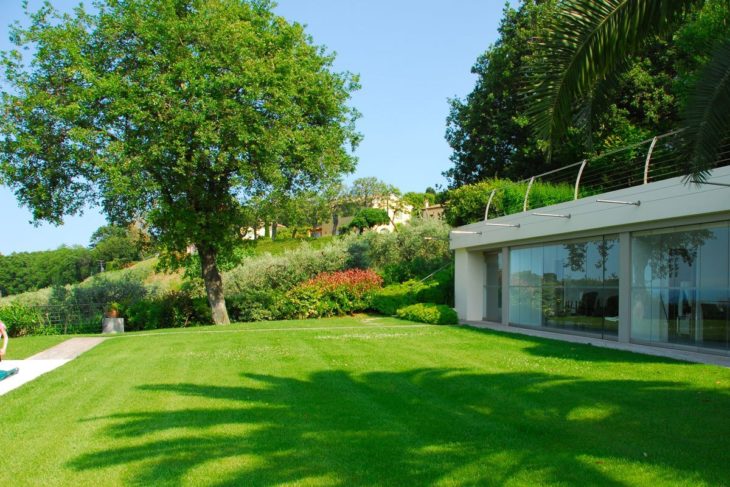 3. Taking care of boundaries
The limits of the property are an important point to enjoy the serenity and pleasure that a well designed space can give us. The question is: "How do I make these flowerbeds or these trees an intimate, private corner away from prying eyes? How can I enhance the characteristic and scenic spots?". Surround your garden with hedges and trees that must be chosen according, as already mentioned, to the context and the desired style, so either evergreen and deciduous essences, mixed together for color and blooms, or a single species. The final result: a more natural and less geometrical or much more formal effect with a single species.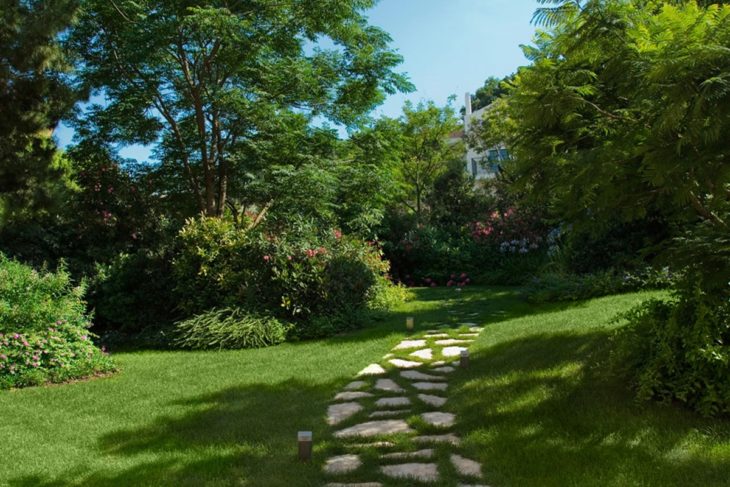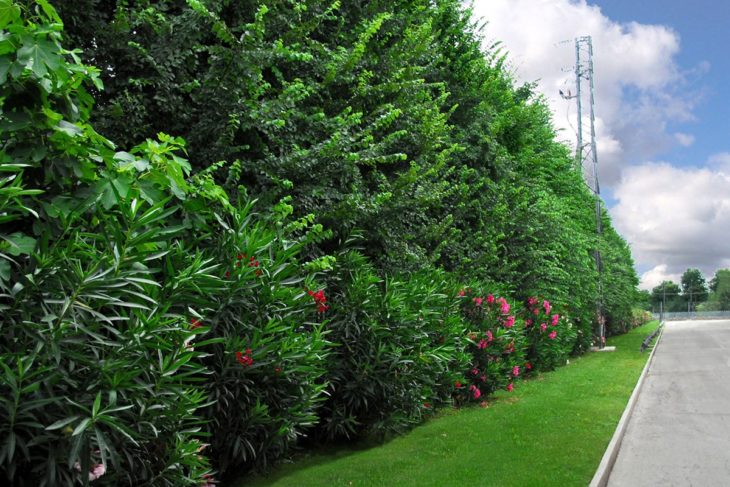 4. Create shaded and weather-protected areas.
The trees or structures such as gazebos, verandas, canopies, should always be chosen according to what surrounds us and also to the space available.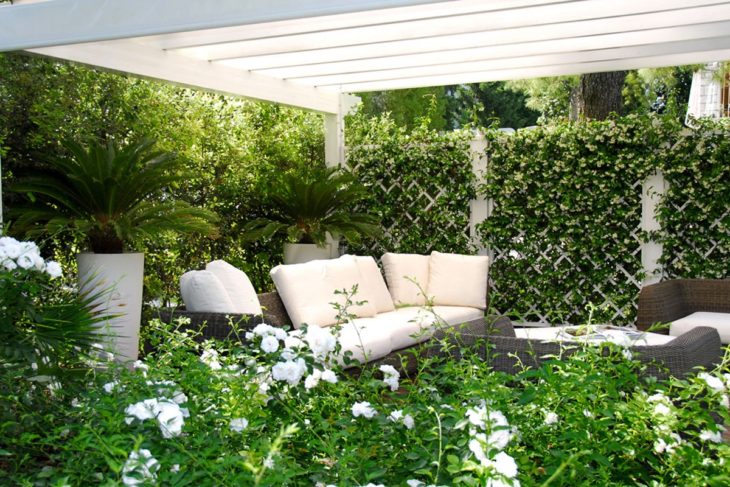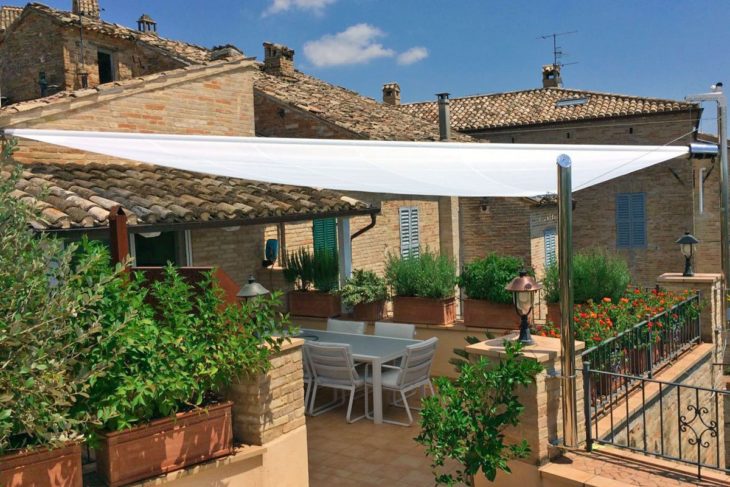 5. Choose the furnishings: ask yourself what you like, what you need and how you want to use them.
A barbecue corner, or an outdoor kitchen, or an area with seating with a large brazier, chaise longue in the lawn, tables, chairs and poufs where you want, to have a corner of aggregation. Our advice is to choose outdoor products, comfortable, with easy to clean, durable UV-resistant materials. (go to our showroom)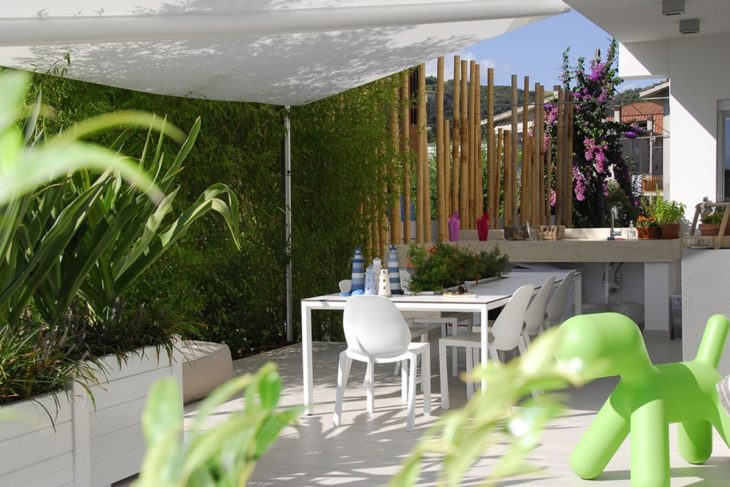 6. Select plants: the choice of plants varies according to your tastes and needs.
The first point to check is exposure to the sun, and select plants that could be better suited to the conditions and climate of the area we are in. Looking around you and favoring the existing vegetation is certainly a guarantee for the success of the garden. Choose the colors you want to use and set the time and budget you have available. To understand how to dose the shapes and species to be used, it might be useful to start shielding an area to create natural shade to refresh the environment. You can also create visual plant barriers to have more intimate areas, as if they were small secret gardens. Or you can build a dune to shelter an area from wind, noise or prying eyes. We can go so far as to create a sensory path emphasized by the scents of Jasminum L and Lavandula L. or by the so-called "lilac" or rather "Lippia citriodora" with its intoxicating scent of lemon. (go to our nurseries)
7. Make sure you have water
Especially for the lawn, otherwise opt for ground cover that requires little and give up on the lawn, or be content to have grass cover that, let's say, isn't really an English lawn! (go to irrigation systems)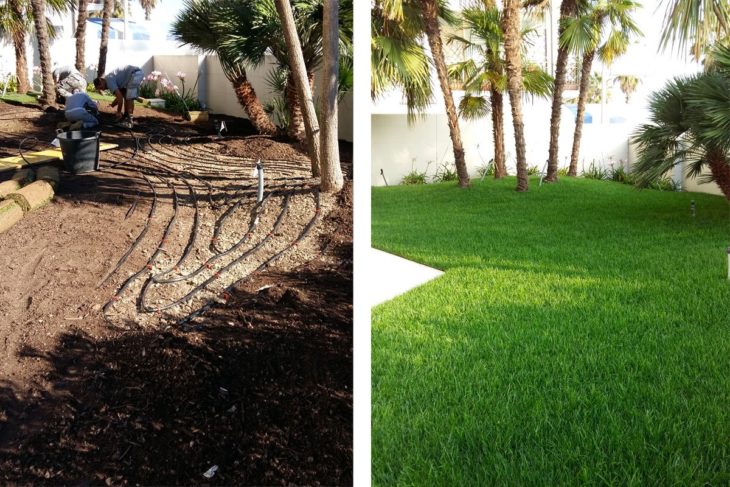 8. Create the right atmosphere, even at night.
Night lighting is one of the fundamental elements of the garden in the evening hours. It will be thanks to the chromatic contrasts that it will be possible to create suggestive sceneries, able to give depth to the space. Moreover they will be useful to highlight some particular points and hide others. You can use hot or cold LED lights, it depends on the effect we want to achieve. To give a warmer and more welcoming touch you can use candles, possibly lemongrass: an excellent expedient against mosquitoes. (go toour lighting products) >> Go to our creations
EXAMPLES OF GARDEN LIGHTING
In short, the secret to designing a garden is to have fun studying and organizing all the land you have, big or small, to make this experience rewarding! And if you don't have the time to reorganize and make your ideas and dreams come true, trust professionals. Watch how to design a garden on our Youtube channel!
Rely on people who have been doing this job since 1966