One of the fundamental components for the success of a garden, whether large or small, is automated irrigation. If the system is not designed and implemented correctly, it is inevitable that the plants, blooms and lawn will be adversely affected. In order to ensure success, it is not only necessary to have technical knowledge of hydraulics, but it is also essential for the technical designer to have knowledge of botany, as well as a perfect knowledge of the needs of the species that will be planted in the new garden.
The system must be made according to the garden and not vice versa, so the installation of the irrigation system must be done after planting all the plants and bushes, but before sowing the lawn. The so-called "arrangements" are strongly discouraged by us, as they create obstacles, constraints, which often affect the final layout.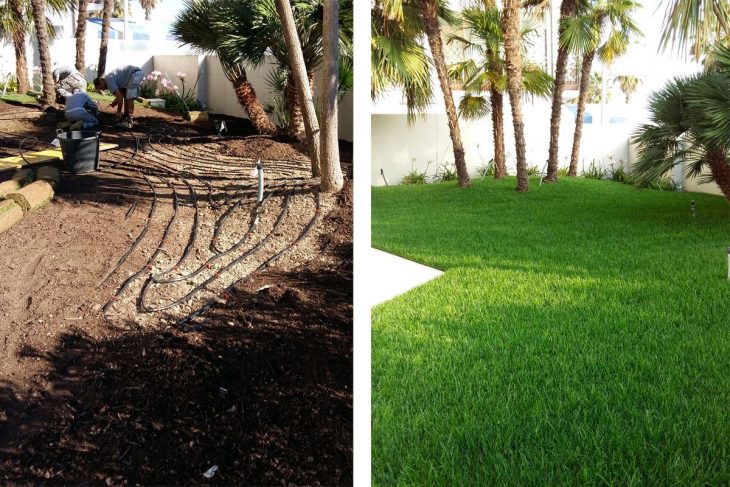 The irrigation system must be carefully and consciously designed, creating sectors according to the water needs of the plants, the type of soil and, of course, the exposure. Watering times should of course be adjusted according to the season and the average temperature. In this, intelligent control units (Remote Smart Sprinkler Control systems) allow you to manage the entire system directly from your smartphone or PC, with undeniable advantages:
No more waste.
Management via app or browser allows you to instantly monitor water consumption so that it can be adjusted if not properly optimized.
Remote control.
Through the Internet connection the control of all the functions of the control unit is simple and immediate, and you can, among other things, operate it from any place and at any time.
Malfunctioning irrigation system.
Should any problem occur, an alarm will be transmitted to the smartphone ensuring, especially in hot weather, that no damage is done to the garden.
For irrigation systems it is better to rely on specialists who will find the best solution, a real guarantee for the health of the garden.