Choosing a Japanese Garden can solve many problems related to the design, as well as giving a corner of serenity. Small spaces can seem a nightmare for those who approach the design of the garden: the desire to put many interesting things together while not having the material possibility to have even a small part can become a real problem.
Japanese Garden
One of the solutions, always in vogue, are Japanese gardens. What could be better to amaze your friends than a place dedicated to reflection, to the care of one's soul, made with poor materials such as sand and rocks that, arranged in a certain way, acquire a deep and spiritual meaning?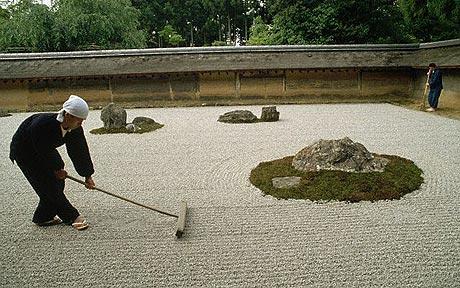 Japanese temple Ryōan-ji, belonging to the Myōshin-ji school
"Classic" or "Zen" Japanese Garden
The first important choice to make is between the "Classic" Japanese garden, as we all imagine it, with waterfall, pond and Koi carp, flowers and macro bonsai, and the garden improperly called a "Zen" garden. The real and correct Japanese name of the latter is KARESANSUI, (from kare, dry, and sansui, mountain water). The origins are very ancient, about 500 AD. Once again art and religion intertwine, in an indissoluble way. Influenced by philosophies such as Buddhism and Hinduism from China, the Zen garden finds its best known form in the temples of Buddhist monks where the practice of daily maintenance is an inspiration for deeper meditation and more fruitful prayer. Andrea Pellegrini tells us about it, remembering a study trip made years ago in Japan.
"I was visiting Kyoto, the sacred city, with a dear Japanese friend, an architect and expert in Karesansui gardens. We spent ten days, moving exclusively on foot, among the most famous gardens such as the one near Kinkaku-ji, the golden pavilion, the one on the silver temple (Ginkaku-ji), the Tenryu-ji garden, but for me the most emblematic remains the Ryoan-ji. Supreme example of karesansui, the "The Temple of the Dragon at Peace" does not feature any water, let alone bushes, flowers or trees. The original temple was destroyed by fire during Onin's wars, but the owner's son, Hosokawa Masamoto, had it rebuilt in 1488 with the Zen garden that has survived to the present day, though it went through another fire in 1797. It is a rectangular space, circumscribed by splendid perimeter walls and a veranda where you "sit". In fact, sitting is Japanese for meditation. On the sand, combed every morning by the monks with special wooden rakes in perfectly parallel lines, there are fifteen stones, in three groups: one of seven, one of five and one of three rocks, surrounded by moss and concentric circles of sand. Seeing it from above, the idea is that of an ocean where three small rocky islands stand out. Rigorously following the rule "of the equilibrium of odd numbers", the real mystery for visitors who sit on the veranda is that in any position they will always see only fourteen stones, not fifteen. Nothing is as it seems."
Well, only by going to the roots of a culture completely different from ours, like the Japanese one, can we appreciate what for some people might seem, mistakenly, simply "a group of stones in the middle of gravel" and instead think of our small space in a very different way, recognizing all the splendor and harmony that are proper to it. > Look at our Japanese Garden!
Tell us about your Ideal Garden. Our team will give shape to your wishes!